**PLEASE LET US KNOW IF YOU ARE COMING BETWEEN 4 & 5 PM - DUE TO TRAFFIC, WE MAY CLOSE EARLY**
~We Welcome You to Visit Our Family Store~
GREAT SALES - Check Them Out!!
GREAT QUALITY AT A GREAT PRICE
CHECK OUR PRICE BEFORE YOU BUY ANYWHERE!
WHAT IS YOUR DINING STYLE?
LIVE EDGE DINING TABLES
#1  SLA59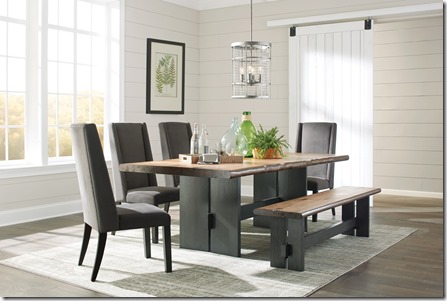 #2 SL81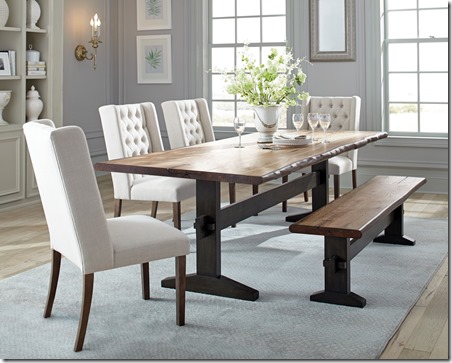 #3 SL80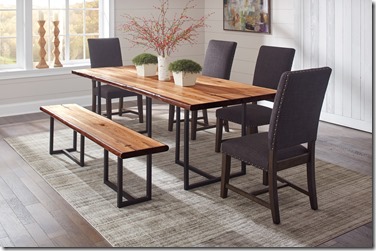 #4 SL76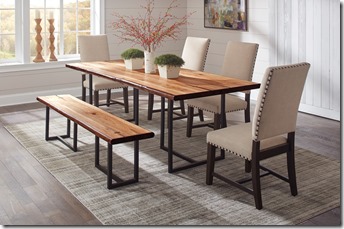 #5 SL77
Call us for pricing on these "LIVE EDGE" dining tables and benches.
Our prices are lower
than the MSRP pricing that you see on the internet.
SAVE, SAVE, SAVE
Got a small space? Now's the time to fill it.
Limited Quantities at these prices!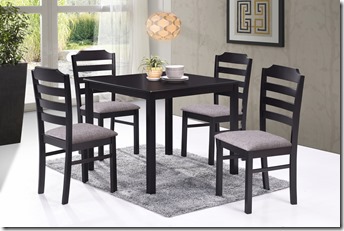 #1 table 36" X 60" or 36" x 36" Espresso finish & 4 chairs
REGULAR $259 /
ON SALE NOW $199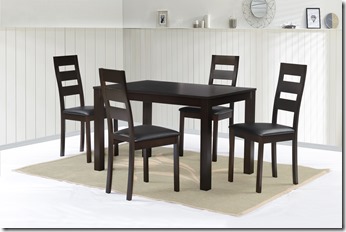 #2 Table 30" x 48" Walnut finish and 4 chairs
REGULAR $259 /
ON SALE NOW $199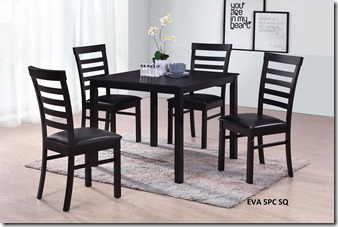 #3 Table 36" x 36" & 4 chairs Walnut finish
REGULAR $259 /
ON SALE NOW $199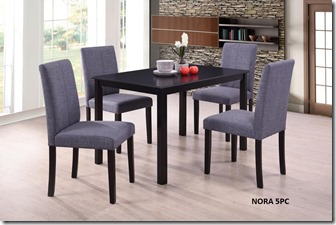 #4  Table 32 x 48" Espresso with Grey fabric & 4 chairs
REGULAR $295 /
ON SALE NOW $229
Table 36" x 60" with 6 chairs
REGULAR $419 /
ON SALE NOW $289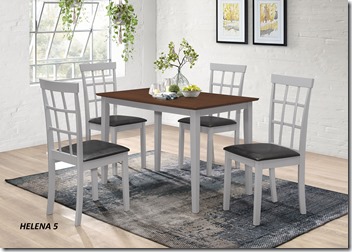 #5 Table 28" X 44" White/Oak with 4 chairs White with Grey fabric
REGULAR $239 /
ON SALE NOW $199
Table 36" x 60" with 6 chairs

REGULAR $419 /

ON SALE NOW $ 289

More Styles below for you to choose from.

**SEE MORE - CLICK HERE FOR A LIST OF VENDORS >>>>

VISIT US AND LET US HELP YOU FIND WHAT YOU WANT

LEFT side - #DR3018PT This transitional dining style counter height set features clean,
linear lines with cozy brown cherry hues.
The ivory linen seats are lined with nailhead trim.

RIGHT side - #DR3133T Warm toned table featuring stylish turned legs.
Chairs beautifully wrapped with linen-like upholstery and nailhead trim.

Left side - #DR3324bk-pt - Counter height dining set.
Rustic, distressed black finish
Ivory linen-like upholstery with nailhead trim.
Table measures 60"L X 30"W X 36"H so this set will fit into smaller places AND/OR used as a desk.
The wingback stools would also match this table. ALSO see a lighter finish below.
ALSO, AVAILABLE IN BAR HEIGHT!!! Set it up against a wall or window with 2 stools!!

Right side - #DR3324bk-pbn COUNTER HEIGHT BENCH

LEFT SIDE - #DR3324bk-pt-54
Rustic wood grain and antique black finish
Ivory linen-like chairs add sophisticated appeal with their wingback sides, button tufting and nailhead trim.
The size of 54" x 54" x 36" H will seat up to 8. The square back upholstered stool could also be used with this table.

RIGHT SIDE - #DR3324bk-t - Standard dining height with wing back dining chairs - how elegant!
TABLE available 72"L X 42"W X 30 1/2"H or 84"(66" + 1 X 18"LEAF).L X 42"W

#DR3324PT - The distressed black finish above is also available in the natural finish.
Designed with convenience and style in mind, this rustic dining collection is a gorgeous addition to any environment.
The paired coloring between natural toned wood and ivory linen-like upholstery creates a bright and
inviting atmosphere for a space-conscious studio or loft.
The plank style surface offers ample room while adding emphasis to the solid wood construction.
Available with chair or bench options.
*THIS TABLE COULD ALSO BE USED AS A DESK!!!!! A person could sit or stand to work.

DR3370RPT - Gather around this counter height table for a casual and relaxing meal.
This five-piece set features a handcrafted distressed exterior with a rustic-inspired weathered gray finish.
The mixture of metal and wood offers a sturdy and capable framework to ensure long-lasting durability for years to come.
Smooth leatherette seats add to the comfort and appeal of this industrial piece.
*The stools can be purchased separately for use at a counter.

#DR3441T - Celebrate the most festive occasions with this large and spacious dining table.
The rectangular top measures 94 inches across allowing up to eight of your guests to be seated.
Underneath is a beautiful display of intricate carving on the trestle base.
The ivory chairs have upholstered seats and backs for extra comfort.

#DR3543PT - COUNTER HEIGHT TABLE IS 86"L X 36"W X 36"H
When it's time to modernize your dining space, this counter height set is ready.
Featuring crisp and clean lines and a brushed black finish, this thick table top is sturdily supported by the wood block legs beneath.
A set of coordinating chairs add to the elegant style with their slatted backrests and contrasting fabric upholstery.

#DR3986PT - COUNTER HEIGHT TABLE IS 66"L X 38"W X 36"H.
Perfect for casual family dinners or game nights, this contemporary style counter height set provides the ultimate cozy atmosphere.
The soothing gray finish is complimented with light gray fabric upholstery for a classic look.
A center beam provides extra support and added charm to blend style and functionality into one beautiful piece.

This is only a small portion of what we have available.
CHECK BACK SOON or click SHOP VENDORS at the top of the page..



Keep in touch. You never know when we might move, again!
Special promotions. Be the first to know. We don't advertise.

Joel Jones Furniture · 11010 Foothill Blvd. Ste 100 · Rancho Cucamonga CA 91730
ACROSS THE PARKING LOT FROM OFFICE DEPOT & ALDI FOOD MARKET
Closed Mon - Tues-Sat 10-5 - Sun Noon - 5
909 941 8393
Copyright © 2023
No images or content on this site may be used or reproduced without consent.